For over 20 years, brands and corporations have been adopting email marketing management to increase their sales. With the implementation of GDPR and other legislation around the world to protect individuals' privacy, there is a fine line between email marketing and spamming.
What are the legal requirements on email marketing management and what risks does it entail? Here are some tips on how to comply with privacy laws of major jurisdiction and avoid legal liability relating to spam mails. Disclaimer - you should consult a local lawyer to obtain the most accurate and professional legal advice!
What is Email Marketing Management?
Email Marketing Management, sometimes referred to as Email Direct Marketing (EDM), is an effective digital marketing strategy. It involved sending emails to past and potential customers to promote their products and services. By now, it is one of the most used online marketing strategies, especially under pandemic.
There is a myriad of content created for Email Marketing Management. Some common emails include:
Still uncertain about how Email Marketing Management should look like? Check out templates on DocPro.com here:
Promotional Email - Anniversary Grand Sale (Discount)
Promotional Email - Health/Fitness Programme Package
Promotional Email - Club Membership
Why Email Marketing Management?
Advantage #1: Email Has The Most Number Of Active Users
296 billion emails were sent and received every day. In other words, around 3.4 million emails were sent every second. (A few million were sent just as you read this paragraph.) According to the statistical forecast, the number of active email users will reach 4.3 billion by 2023. With at least 99% of consumers checking their email daily, Email Marketing Management outshines any other digital marketing strategies!
Advantage #2: Email Marketing Management Has The Best Conversion Rate
Email Marketing Management has an average expected Returns On Investment (ROI) of $42 for every $1 you spend, according to studies. Adopting Email Marketing as a digital marketing strategy increases the amount customers spend for 138%. This drastically outperforms social media marketing managements as emails allow you to purchase in just one click, while social media platforms are tailored for social interactions only. In fact, the average order value of an email is at least 3 times higher than that of social media. In other words, it is 3 times easier to generate sales online by email marketing!
Advantage #3: Email Marketing Management Turn One-time Buyers Into Loyal Fans
One special feature about emails is that you can link the email to whatever platforms, including pdf files, word documents, blogs, social media, business websites, etc. For instance, you may send a Promotional Email to Communicate a Newly Published Article about your Business. Not only a large flow of traffic can be generated, but also can you build a relationship with your audience, ie. your potential customers. Properly done, this creates loyalty to your brand by raising brand awareness, and eventually produces a secured source of cash flow.
Another feature that you must make use of is to dissect your list of potential customers by demographics. Tailor-make emails for segmented groups of customers. Make sure you target the persona precisely so that they only see the messages they want most.
Here is a template of a Promotional Email to Introduce a Unique Product. Follow this to draft a tailor-made email to drive sales!
What is Spam Mail?
Spam mail is an unsolicited bulk email sent indiscriminately to a massive list of recipients. The word "unsolicited" refers to the absence of verifiable permission given by the recipient for the email to be received. The word "bulk" means that the email has a substantively identical content with many other emails sent to different people.
How does Spam Mail Work?
Typically, Spam mails are sent for commercial purposes. (Let's not discuss spam mails that aim at phishing personal information or hacking your computer here.) To send commercial advertisement emails, businesses first obtain your email address by various means. Common strategies include:
Filling a questionnaire

Signing up for a giveaway, lucky draw or social media challenge

Subscribing to the business newsletter

Purchasing a customer list from other companies or marketing agencies
To constitute a spam mail, no consent or permission to send customers email would be acquired. Generally, there would be no checkbox for customers to opt-in or opt-out of marketing emails. The business then compiles a list of recipients and mass sends promotional emails repeatedly afterwards.
Despite the tremendously low revenue generated (or the ROI) per email and the damage caused to corporate image, some businesses still use spam mails due to its low cost. Your domain and emails could be blacklisted by internet service providers for constantly sending spam mails and any emails you sent could head straight to the junk box.
In addition, governments around the world have implemented new privacy measures to protect consumers from spam mails. Let us now look into the compliance requirements when performing Email Marketing Management.
How to Avoid Breaking the Law? - Compliance with Legal Obligations
The law against spam mails differs across different jurisdictions. To obtain the most accurate and professional legal advice, you should consult a local lawyer to avoid liability for your business. Here are some guidelines on email marketing management in relation to the US, EU and the UK.
Email Marketing Management Requirements in the United States (US)
In the US, the CAN-SPAM Act determines whether an email is a spam or a marketing strategy. Violating the CAN-SPAM Act is subject to a penalty of up to USD 43,280. Here are the legal guide issued by the Federal Trade Commission:
1. Don't use false or misleading header information.
Your "From," "To," "Reply-To," and routing information – including the originating domain name and email address – must be accurate and identify the person or business who initiated the message.
2. Don't use deceptive subject lines.
The subject line must accurately reflect the content of the message.
3. Identify the message as an ad.
The law gives you a lot of leeway in how to do this, but you must disclose clearly and conspicuously that your message is an advertisement.
4. Tell recipients where you're located.
Your message must include your valid physical postal address. This can be your current street address, a post office box you've registered with the Postal Service, or a private mailbox you've registered with a commercial mail receiving agency established under Postal Service regulations.
5. Tell recipients how to opt-out of receiving future email from you.
Your message must include a clear and conspicuous explanation of how the recipient can opt-out of getting an email from you in the future. Craft the notice in a way that's easy for an ordinary person to recognize, read, and understand. Creative use of type size, colour, and location can improve clarity. Give a return email address or another easy Internet-based way to allow people to communicate their choice to you. You may create a menu to allow a recipient to opt-out of certain types of messages, but you must include the option to stop all commercial messages from you. Make sure your spam filter doesn't block these opt-out requests.
6. Honour opt-out requests promptly.
Any opt-out mechanism you offer must be able to process opt-out requests for at least 30 days after you send your message. You must honour a recipient's opt-out request within 10 business days. You can't charge a fee, require the recipient to give you any personally identifying information beyond an email address, or make the recipient take any step other than sending a reply email or visiting a single page on an Internet website as a condition for honouring an opt-out request. Once people have told you they don't want to receive more messages from you, you can't sell or transfer their email addresses, even in the form of a mailing list. The only exception is that you may transfer the addresses to a company you've hired to help you comply with the CAN-SPAM Act.
7. Monitor what others are doing on your behalf.
The law makes it clear that even if you hire another company to handle your email marketing, you can't contract away your legal responsibility to comply with the law. Both the company whose product is promoted in the message and the company that actually sends the message may be held legally responsible.
Email Marketing Management Requirements in the European Union (EU under GDPR)
GDPR which has been in force since 2018. Its requirements go well beyond the EU Privacy Directive, as it requires affirmative, freely given, specific, informed and unambiguous consents from email recipients to be compliant.
1. Silence, pre-ticked boxes or inactivity should not constitute consent.
Positive opt-in is required from customers. If you have ticked boxes for users to opt-in, they will need to be unchecked for consent to be valid under GDPR. Don't use pre-ticked boxes.
2. Email consent must be separated from privacy policy and other terms of use.
Users should have a choice to use online services without signing up to newsletters or other marketing materials. If the use of services is conditional on the user to accept terms of use, privacy policy, cookie policy and marketing materials through one checkbox, then it is deemed that consent is not freely given. Accepting email materials should be optional and selected separately.
3. Demonstrate that the user has given consent to the processing operation.
You will need to keep records of consents by your users and be able to provide proof of:
the identity of the individuals consented

the time of consent

what they were told at the time of consent

how they consented

if they have opted-out of the consent
4. Allow users to opt-out or withdraw their consents.
The GDPR requires you to allow your users the right to withdraw his or her consent at any time. You must make it easy for your users to opt-out, and must not charge any fees for it. The best way is to include an unsubscribe link to the bottom of every email to your users as per the US requirements above.
Email Marketing Management Requirements in the United Kingdom (UK)
In the UK, the Privacy and Electronic Communications Regulations 2003 determines whether an email is a spam or a marketing strategy. Here are the legal guide issued by the Information Commission's Office:
In short, you must not send electronic mail marketing to individuals, unless:
they have specifically consented to electronic mail from you; or

they are an existing customer who bought (or negotiated to buy) a similar product or service from you in the past, and you gave them a simple way to opt-out both when you first collected their details and in every message you have sent.
Sole traders and some partnerships are treated as individuals. So, you may also need to consider data protection implications if you are emailing employees at a corporate body who have personal corporate email addresses (eg firstname.lastname@org.co.uk).
Bought-in Marketing Lists
As previously mentioned, some marketing agencies sell lists of email addresses to corporations as a product. There are also specific provisions governing it - generally, you can only sell your marketing list if you have the consent of the listed individuals to do so. Other businesses will only be able to use the list for recorded calls, texts or emails if the people on the list have specifically consented to receive that type of message from that company.
You must be very careful before using bought-in lists for recorded calls, texts or emails. You can only use them if everyone on the list specifically consented to receive that type of message from you. Generic consent covering any third party will not be enough. You must check that any list is accurate and the details were collected fairly and that the consent is specific and recent enough to cover your marketing.
In short, just avoid buying an email list.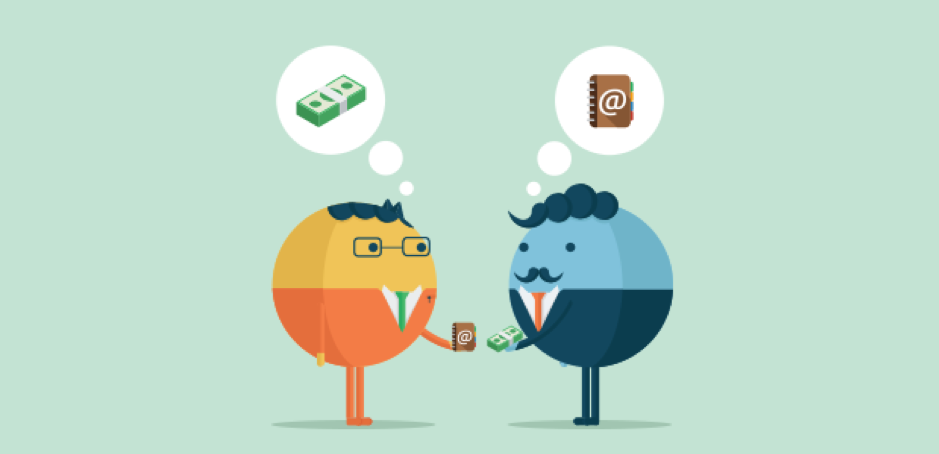 Opt-out list
As soon as someone objects to or opts out of your marketing, you should add them to a 'do-not-contact' list. You should screen all your marketing against this list to make sure you don't contact anyone who has opted out. You can send an immediate reply confirming they have unsubscribed, but you must not contact them at a later date even if this is just to ask if they want to opt back in.
You must not simply delete their details altogether, as you need to ensure they are not later put back on your marketing list by mistake (for example if you buy more leads that include the same details). If someone asks you to delete their details, you should explain that you will need to keep them on a 'do not contact' list to make sure you comply with their right to opt-out.
Feel like the legal compliance requirements are too complicated?
You can hire a marketing agency or an online marketer to conduct Email Marketing Management for you! With expertise and experience, these agents should be able to avoid liability in Email Marketing Management. Check out some useful agreements here:
This is a Service Agreement suitable for online marketing, e-mail promotion, social media or other digital marketing services. Under this agreement, an online Marketer was to provide marketing services for a Customer for an Agreed Price. This agreement is drafted in Neutral Form.
This is a Service Agreement suitable for online marketing, e-mail promotion, social media or other digital marketing services. Under this agreement, an online Marketer was to provide marketing services for a Customer for an Agreed Price. This agreement is drafted in favour of the Customer.
This is a Service Agreement suitable for online marketing, e-mail promotion, social media or other digital marketing services. Under this agreement, an online Marketer was to provide marketing services for a Customer for an Agreed Price. This agreement is drafted in favour of the Marketer.