The entry of artificial intelligence in the legal industry has been rather slow. The legal sector has been one of the few industries that have shown consistent reluctance in embracing fresh technologies. However, as we march toward the future, it's almost impractical to go without something as relevant as AI. In fact, AI has been disrupting all major sectors, and the legal industry wouldn't be an exception. Although slow, the change is happening!
In the legal industry, the AI software market is currently valued at $ 548.44 million. By 2027, it is projected to be a mammoth $2587.04 million industry. This marks an impressive 29.17% growth over the forecast period between 2022 and 2027.
Gone are the days when lawyers used technology solely for research purposes. The holistic scenario of law practice is evolving with the inception of A in the legal sector. Let's explore how impactful artificial intelligence in the legal industry turns out to be.
How relevant is AI to the legal industry?
The widespread deployment of artificial intelligence in the legal industry was quite anticipated. AI specially designed to cater to the legal industry is capable of performing tasks that human intelligence could do in the past. This brings the potential for a massive transformation in the legal sector to the table. This could even change the lawyer's role in the coming years.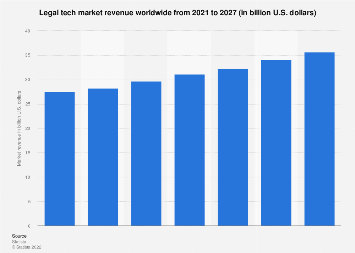 Source: statista.com
Legal tech market revenue rising from 2021 to 2027
Compared to other sectors like healthcare, education, finance, banking, and manufacturing, the penetration of artificial intelligence in the legal industry has been much more gradual.
The field of legal research is one of the prime domains that calls for the deployment of AI. Thanks to sophisticated AI technologies, lowers can get a deeper insight into the domain like never before, and that too in seconds. The high number of man-hours required to carry out legal research eats into the profits of law firms. This is where AI is transforming the legal sector. Using AI, lawyers can complete extensive research in seconds. By compensating for the high expenditure involved in legal research, AI tools enhance the competence of law practitioners.
The Horizon Scanning Forward Thinking report, published by the Law Society of England and Wales in 2018 focussed on the innovative concepts of AI in the legal sector. The report also highlighted the relevance of AI-backed chatbots to answer the queries of clients.
How does AI simplify legal practice in a digitized industry?
AI has an extensive plethora of applications in several domains of the legal industry. The broad fields of applying artificial intelligence in the legal industry include:
Due diligence

Data analytics

Automation services
1. Due diligence
Fact-checking in the legal sector holds paramount importance. Before proceeding to any legal case, lawyers need to verify facts and scrutinize documents. Accordingly, they put forward their arguments or counsel their clients. This documentation process often turns out to be painstakingly long. Evaluating a legal situation requires the lawyer to scan through hundreds of pages.
With the inception of AI, it's possible to scrutinize tons of digitized documents to verify facts. Sophisticated AI tools help lawyers with due diligence. Here are the prime benefits of using AI for fact-checking.
Mitigate time loss while evaluating lengthy case files

Do away with the tedious process of scrutinizing documents

Find out the weak and strong points of arguments in a case
While humans have their limits and often get irritable or tired, AI is free from fatigue. Therefore, AI tools seamlessly comb through massive volumes of data in a few minutes and offer intelligent inputs.
2. Data analytics
The legal analytics market has witnessed the on-demand segment soaring at a 27.8% CAGR between 2021 and 2026.
Data analytics in the legal industry refers to smart research. The process encompasses the use of smart techniques to evaluate digitized data and obtain citable case laws.
As we mentioned, legal research has been significantly simplified, thanks to AI. This intelligence finds its applications at various stages of legal proceedings. These include:
The rulings in previous cases

Evaluating case outcomes

Chances of a verdict

Tentative timeframe of a case

How the case currently stands
Besides, advanced AI algorithms have been trained to scan legal documents. These tools can detect the risk of litigation. Examining phrases and keywords, these tools determine this risk profile.
3. Automation services
The legal industry is one of the domains where automation can take over tons of mundane and repetitive tasks. entrusting AI-backed tools to perform these routine tasks significantly slashes the time and saves manual labour. Previously, legal practitioners used to channel a sizable part of their chargeable man hours to carry out unbillable tasks. these included preparing timesheets or following up with their clients through emails.
Automating these time-intensive and routine processes delivers a plethora of benefits.
Advanced AI systems are capable of evaluating legal clauses and documents like NDAs and contracts. Besides, these tools are capable of correcting grammatical errors and formatting legal documents. Eventually, automating legal processes using AI tools significantly saves energy, time, money, and resources like paper and labour.
How is AI transforming the legal sector?
The widespread inception of artificial intelligence in the legal industry has already transferred it significantly. While legal practitioners used to think of simplifying their tasks in the past, AI has proved its potential. It appears that the future is already taking over the sector, considering the sheer mix of sophistication and effectiveness of these AI tools.
Let's check how these futuristic technologies are making a visible difference in the legal sector.
1. Unravelling background information
While discussing due diligence, we have already talked about how artificial intelligence in the legal industry helps lawyers unravel background information. Fact-checking and going through historical crime data turns out to be a time-consuming ordeal. Thanks to AI, these Herculean tasks no longer take weeks to be accomplished. This pacifies legal cases significantly and reduces the timeframes of cases.
2. Working on intellectual property
Specially trained AI tools generate valuable insights into intellectual property portfolios. These include searching trademarks, registering documents, and working on copyrights and patents. Naturally, the use of artificial intelligence in the legal industry simplifies these tasks.
3. Automating documentation
Lawyers have been using data inputs from AI tools to create legal documents digitally. Apart from automating repeat tasks, they also find AI tools contextual while discovering review litigation documents. This way, lawyers get to know how law firms evaluate cases based on behaviours and topics. Lawyers simply need to upload the necessary documents to obtain intelligent inputs within minutes.
4. Legal analytics
Legal analytics happens to be one of the most practical applications of artificial intelligence in the legal industry. Attorneys largely bank on AI to deploy data points by retrieving them from previous cases, win/loss rates, or the history of a judge to prepare cases. Besides, judges use AI to check legal submissions, detect missing evidences from submissions, or find critical authorities.
5. Reviewing legal contracts
AI finds a practical application in reviewing legal contracts. By analyzing these contracts, AI helps in identifying potential risks, opportunities, and efficiencies in the contracts. So, using artificial intelligence in the legal industry for contract reviewing helps in pointing out similarities and differences, offering a broader insight into these documents.
6. AI-based recommendations
Based on historical data, AI-backed tools are capable of recommending desired actions. A data-oriented approach to decision-making makes the approach practical. AI has got tremendous powers to evaluate insights faster. Naturally, lawyers can use these tools for predicting the outcomes of cases.
7. Electronic billing
AI has significantly transformed traditional processes of billing and invoicing in the legal domain. Deploying artificial intelligence in the legal industry for accounting, the chances of errors have been drastically slashed. Smart technologies offer transparency and visibility in billing, invoicing, and accounting in the legal sector.
How does the future of lawyers look with AI stepping in?
AI has already demonstrated its potential in the legal industry by supporting legal practitioners in managing their tasks. However, the contribution of artificial intelligence in the legal industry is not limited to managing accounting systems, processing emails, or formatting documents. As we stride towards the future, the more sophisticated merits of AI technology are coming to the table.
For instance, document drafting and analysis effectively move back-office tasks in law firms to the front desk. With AI revolutionizing the legal industry, law schools across the world need to transform their academic infrastructures to produce 21st century lawyers compatible with handling AI tools.
Although AI tools are yet to take over legal decisions, we can fancy a day when trained AI systems take over the task of analyzing documents to determine disputes. Rather than deploying an army or lawyers, many tasks are to be automated.
Besides document drafting using artificial intelligence in the legal industry is also becoming popular. There are systems capable of accurately predicting the outcomes of disputes. Yet, there is still a door for adequate sophistication before machines start taking over legal decisions!