Following the rise of social media, brand ambassadors, (also known as brand representatives or social media influencers), have become increasingly central to the marketing tactics of companies and B2B organisations. A brand ambassador is an individual hired by a brand to promote and recommend a certain product or shed a positive light on a particular brand to their network to increase sales. The role not only benefits the company promoted but also offers ambassadors the enticing opportunity to make money by representing a brand they support.
If you are considering hiring one or working as one, you will have to enter a brand ambassador agreement, which is a legally binding contract that sets out the terms in which the ambassador is to represent the company in promoting their product. A brand ambassador contract template includes:
Brand guidelines
Responsibilities and Duties of Brand Ambassador
Approval Process and Timeline
Payment Terms

Exclusive Rights

Right to Reproduce
Ownership of Materials
Things that the brand representative should avoid doing
Copyright and Trademark
Termination Notice
Brand Ambassador Contract Template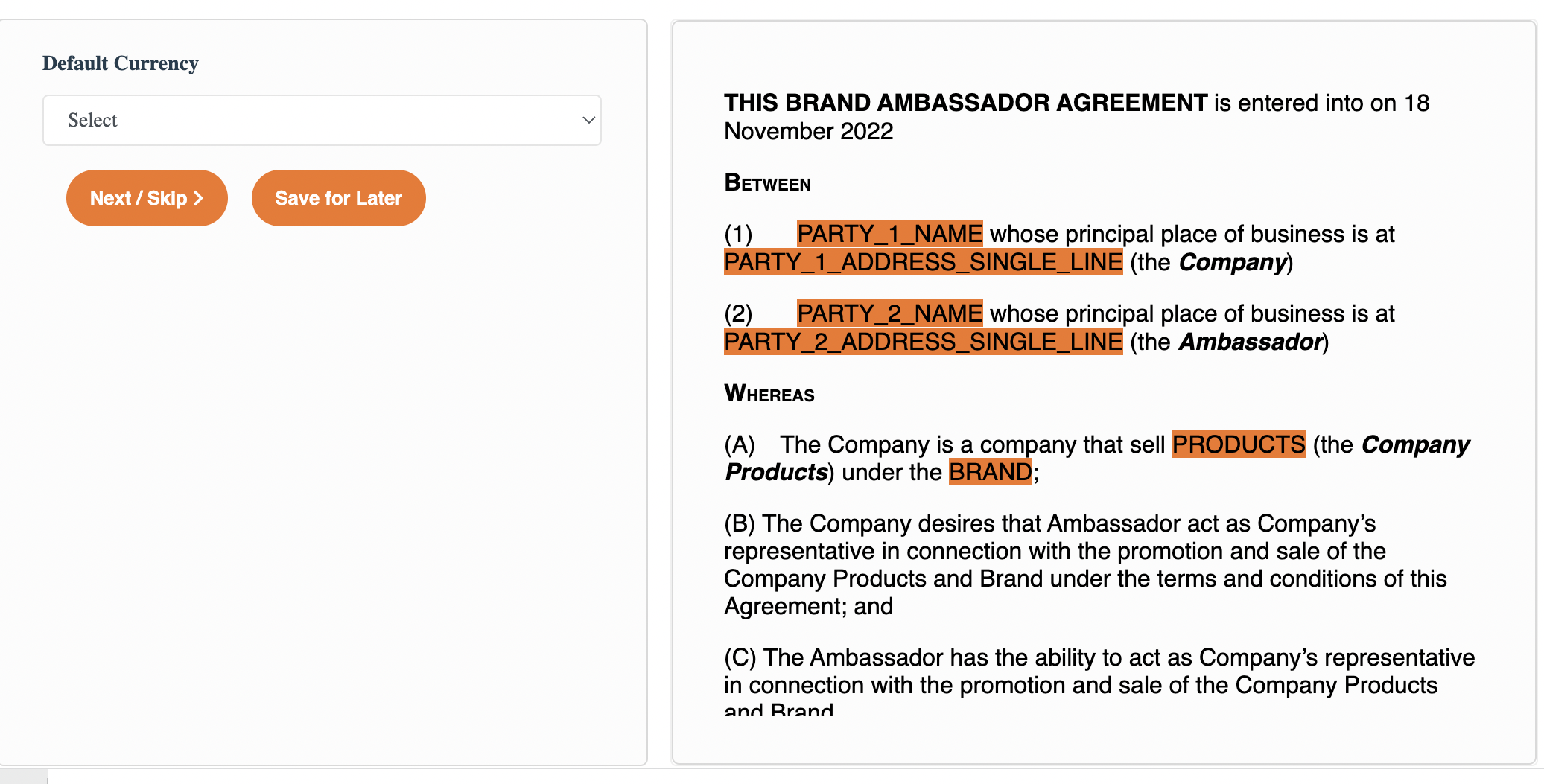 What is a brand ambassador?
Brand ambassadors also called 'brand representatives' or 'brand managers', are individuals engaged by a company to promote and raise awareness of the brand and products. The brand ambassador does so by endorsing, recommending, and referring the company's brand and products to others in their network.
Brand ambassadors, enable companies to leverage their broad reach and direct influence to increase brand awareness. This increased awareness drives sales and ultimately increases profits for the company.
There are generally two kinds of people engaged as brand ambassadors: celebrities/influencers and ordinary individuals.
1. Celebrities or influencers
Celebrities are often engaged to serve as brand ambassadors for a company. Common examples of celebrities engaged as brand ambassadors include singers, actors, athletes, socialites, or philanthropists.
Larger businesses often can engage A-list celebrities as brand ambassadors. For instance, Rolex, the famous Swiss luxury watch brand, famously engaged Roger Federer as their brand ambassador.
Other smaller-scale influencers, called 'micro-influencers, are also commonly engaging. Micro-influencers often have a well-defined following in a particular niche market that the brand wants to penetrate.
2. Ordinary Individuals
Ordinary individuals are also often engaged by companies to serve as brand ambassadors. These individuals often have a small-medium-sized network and/or social media following which the brand is seeking to tap into. A common example of a brand ambassador that falls into this category is college students.

Engaging college students as ambassadors is usually done by professional service organisations such as law and accounting firms. These types of organisations are known to engage college students as ambassadors as a way of raising awareness amongst their cohort about the firm and their work. This is done to get students interested in the firm and their graduate recruitment opportunities.

Other companies such as Lyft, a ride-sharing service in the US, have engaged college students as brand ambassadors in the past. Through this, they were able to raise awareness about their services and drive referrals of other people onto their platform.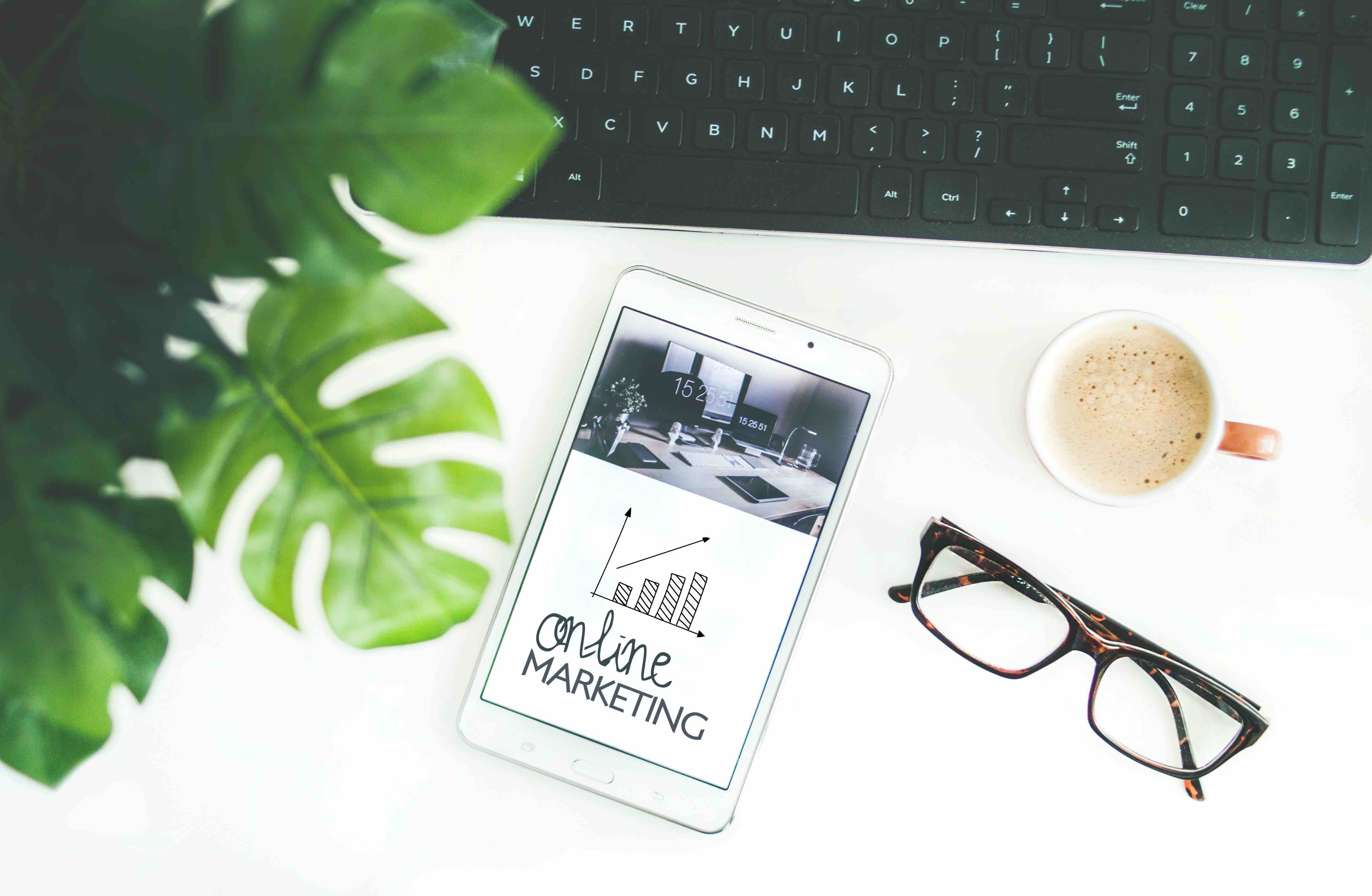 Duties of a Brand Ambassador:
Here are some of the typical duties that brand ambassadors are expected to fulfil during their stint:
1. Promote the goods and services of the company
The overriding duty of a brand ambassador is to promote the goods and services of the company to their following on social media, or with other friends and family.
This is done by educating people about the company's products through demonstrations, videos, posts, etc. It is also often done through content creation, which includes the creation of blogs, newsletters, product reviews, etc.
2. Generate Sales Leads
One of the primary responsibilities of a brand ambassador is to generate sales leads by building rapport with customers and vendors. After all, the aim of engaging the brand ambassador is to increase sales and profits.
Brand ambassadors tend to focus on this aspect more if their compensation is commission-based.
3. Participate in promotional events
Brand ambassadors may be required to attend a variety of promotional events including trade shows, product launches, and other business events to promote the company's product.
4. Act and Model
In some cases, a brand ambassador may also be required to act or model for marketing materials created by the company. This includes brochures, TV advertisements, or billboards.
5. Answer Queries
Often, the brand ambassador will become the first point of contact for questions from the prospective consumers they influence or engage with.
To fulfil this duty, the ambassador should maintain a strong knowledge of the company and its products. The ambassador should understand the vision, goals, and operations of the organisation as well.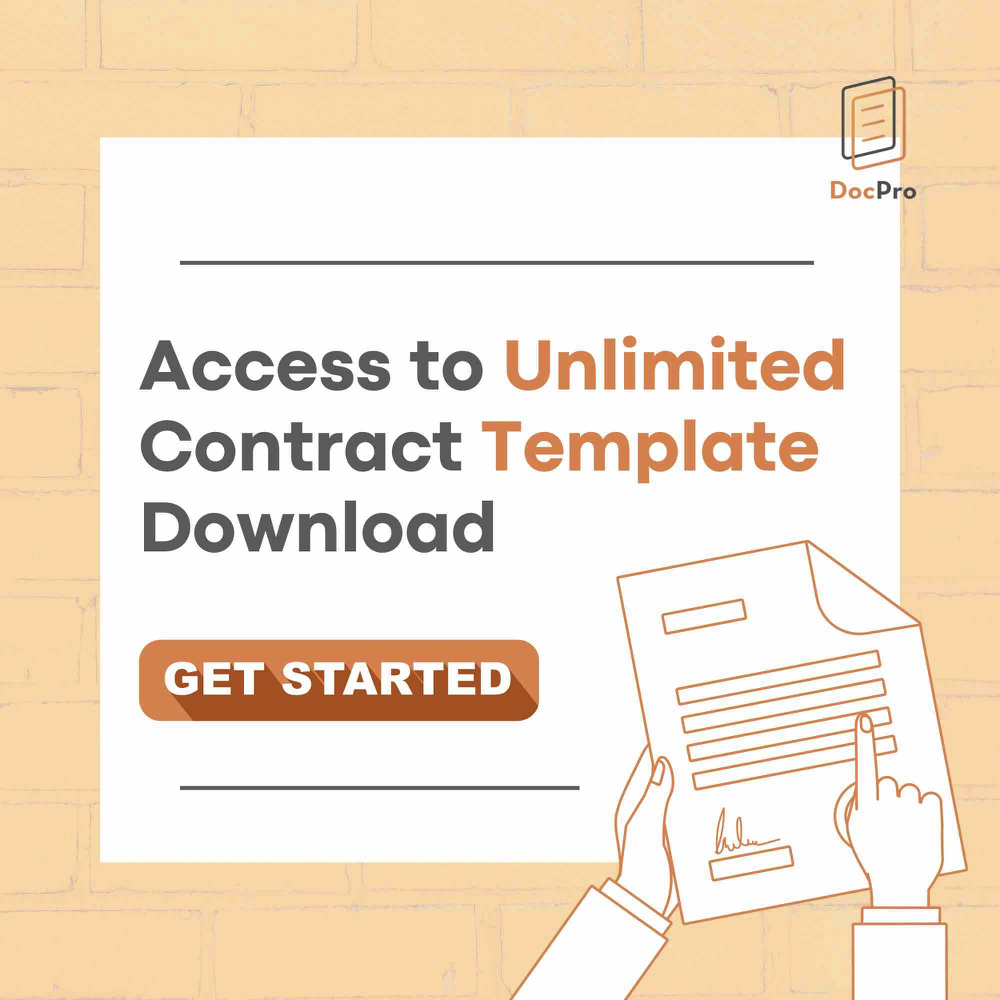 What is a brand ambassador contract? Why is a brand ambassador contract necessary?
A brand ambassador contract records the terms of the agreement between the ambassador and company in a formal manner.
A brand ambassador contract is an important document for many reasons.
It offers protection for both parties. A brand ambassador agreement clearly outlines the terms of the agreement between the parties – including the rights and responsibilities of each party. It thereby serves as an important point of reference should there be a dispute between the parties down the line.
It also helps both parties communicate their expectations to each other. Explicitly outlining their respective duties removes any ambiguity and helps both parties have a clear understanding of what is expected of them.
Further, Betina Baumgarten notes that it is not just about the brand and the ambassador - having an agreement in place ensures that there is consumer transparency.
How to write a brand ambassador contract?
So, you probably understand by now that a brand ambassador contract is an extremely important document. But how do you draft one?
Certain clauses are very important when it comes to drafting a brand ambassador contract. Here are the most crucial ones you should keep in mind:
1. Exclusive Rights
Brand ambassador agreements often include an exclusive rights clause. This clause states that a brand ambassador is not allowed to work for other brands that are in direct competition or within the same/similar industry.

Other times, this restriction is less stringent – it might require that the ambassador informs the company if they are or are intending to serve as an ambassador for another brand.

The rationale behind this restriction is that if a person represents multiple brands in the same space, this might send mixed messages to their audience, making the promotion seem less genuine.
2. Right to reproduce
Brands often reserve a right to reproduce statements made by or information of the ambassador in exact or paraphrased form. This right can be irrevocable or revocable.
Brands find this right useful if they ever want to reproduce statements made by the ambassador for purposes other than for what they were made by the ambassador. For instance, a brand may want to use a statement made by its ambassador at one of its product launching events.
3. Brand Ambassador Duties
A brand ambassador agreement should specify all the duties the ambassador is to fulfil. This is highly brand specific, and depends on the messaging and reputation[1] your brand put across. This may also depend on the particular demographic the brand is trying to target, as different groups of people tend to respond differently.

This section should outline what content the brand ambassador is to create to comply with the brand's vision and goals. This section should be as detailed as possible. So, for instance, if the brand wants the ambassador to make social media posts, this section should specify how frequently the posts should be made and whether certain statements or words should be explicitly mentioned – this might include a requirement to include a slogan or motto. It should also specify which social media channels the posts should be made on, etc.

Other duties commonly imposed in this section include a duty for the brand ambassador to maintain a specified level of knowledge of the product to promote it adequately. Furthermore, a duty is often imposed for the ambassador to make amendments to the posts in the way which the company specifies.
4. Brand Guidelines
It is important to include brand guidelines in any brand ambassador agreement.

Brand guidelines should specify the voice, tone, and style of language to be used when making communications or representing the brand. It will help the ambassador communicate consistently with your brand.
5. Approval process
Ensuring a consistent and clean brand image is important for a business's reputation.
To maintain this clean image, many companies require that any content or communication created by their brand ambassadors are veistted before they go live. This process helps maintain a consistent and clear brand message.
Sometimes, the brand will require that approval is obtained only for pieces of content. If this is the case, it should also be specified in the brand ambassador agreement.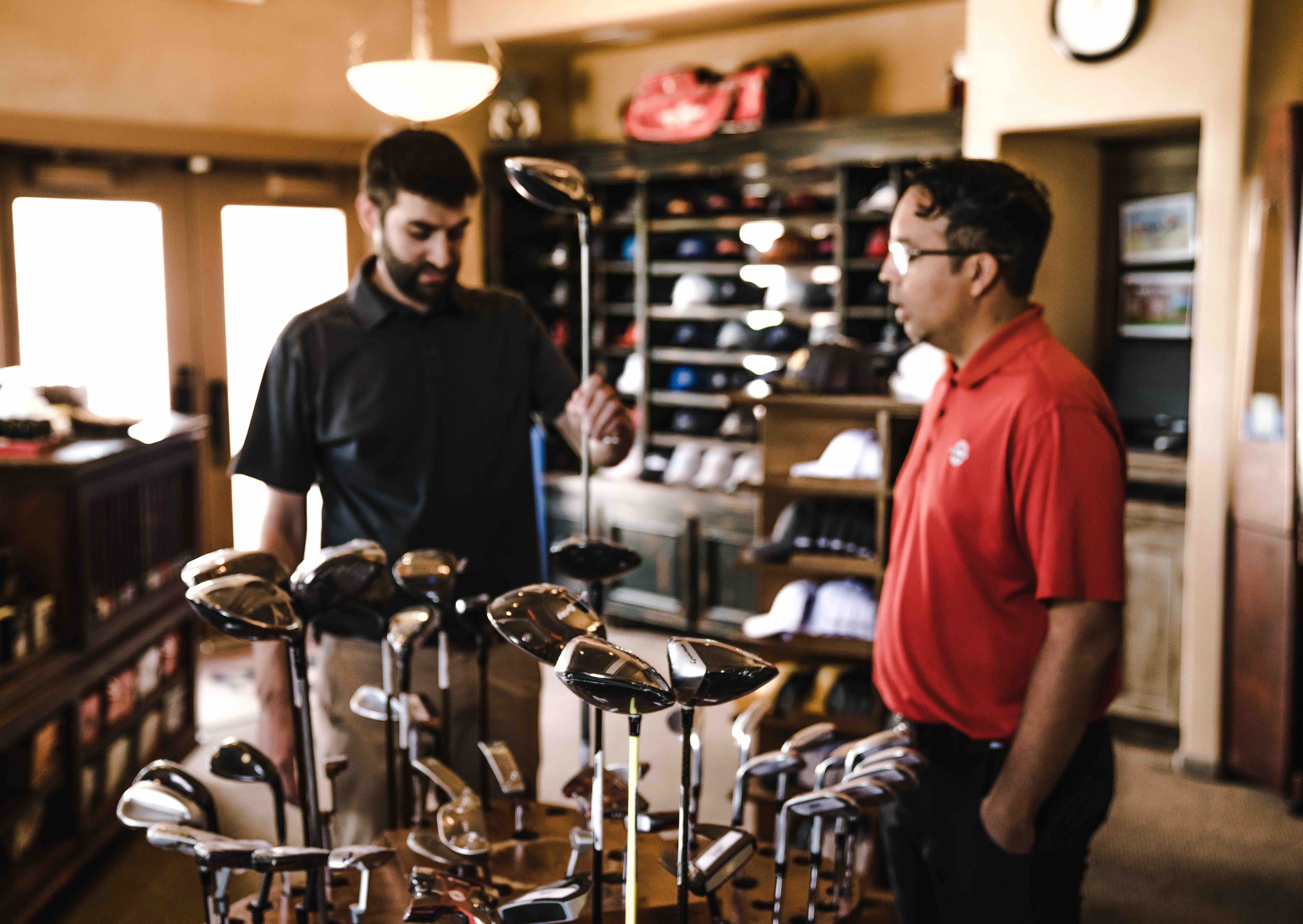 6. Things that the brand representative should avoid doing
Whilst it is important to make sure brand ambassadors know what to do, it is equally important that they know what not to do about your brand.
The section should provide specific guidelines on what the ambassador should not do, which might include:
Purposes which a product cannot be recommended for

Certain claims

Certain warranties or guarantees concerning the product

Prices at which the products cannot be offered

Posts on social media that are off-limits
Brand ambassador agreements also often include a list of words, statements, claims, or other information, which the ambassador should not associate with their brand in any way.
In general, the most important thing is that the brand sets strict guidelines to protect the brand and prevent deceiving consumers, says fashion attorney and consultant Betina A.S. Baumgarten. This will maintain the integrity of the brand and help sustain the brand's reputation in the long term.
7. Payment terms
A brand ambassador agreement should specify clear payment terms. The payment terms should be clear and cover the following two questions. Firstly, how will the ambassador's compensation be calculated (e.g.: will the ambassador receive a flat fee, or will it be commission-based)? Secondly, when will payment be made by the company?
8. Timeline
A clear timeline should be included in the brand ambassador agreement outlining when each deliverable should be produced by the ambassador.
9. Termination Notice
Unfortunately, as with any other relationship, relations between a company and a brand ambassador can go haywire.

It is therefore important that a brand ambassador agreement specifies how the contract can be terminated. In this respect, it is common for brand ambassador agreements to include a clause stating that either party can terminate the agreement without cause with 30 days' notice to the other party.

Any post-termination duties should also be specified. This might include, for instance, the brand ambassador should return any products that the brand has gifted them.
10. Legal responsibilities
The legal responsibilities of each party should also be specified.

For instance, legislation in many jurisdictions requires that certain disclosures are made by the ambassador when they use any of their social media platforms to advertise a product for a brand. This often varies depending on the platform being used. If this is the case, the brand ambassador agreement should specify the obligation for the ambassador to do so.
11. Copyright and Trademark
Brands often allow ambassadors to use their trademarks and copyright to promote their brand more effectively.

It is important to clearly define the extent of this permission. Usually, brands will only allow ambassadors to use trademarks and copyright to promote the brand.

Brands run the risk of ambassadors using their trademarks and copyright for unrelated purposes if they do not define the extent of this permission. This may threaten their brand image, making it important that the boundary of permission is clearly defined.
12. Ownership of materials
Who owns the content posted by the ambassador? It depends, says lawyer John Allen Waldrop. Brand ambassador agreements must also specify to who the intellectual property in any deliverables produced under the agreement will belong – the brand or the ambassador.
The brand may be the owner if the agreement specifies the arrangement as a 'work for hire'[2]. Otherwise, the brand ambassador may have ownership of the materials.
Most often, though, companies choose to reserve all intellectual property rights in any deliverable. This is so they can freely use the deliverable even after the brand ambassador contract is terminated.
How to get a Brand Ambassador Contract Template?
Drafting a brand ambassador agreement is easy! Don't worry, you won't have to draft one yourself as you can simply refer to one of DocPro's brand ambassador contract templates

We have created three different forms of this template, each drafted to favour a different party. You can find links to each template and a brief description of it below:
Brand Ambassador/Representative Agreement – Neutral Form: https://docpro.com/doc1188/brand-ambassador-agreement-neutral
This brand ambassador agreement was drafted in neutral form. It is drafted to favour each party equally.
Brand Ambassador/Representative Agreement – Ambassador: https://docpro.com/doc1201/brand-ambassador-agreement-ambassador
Brand Ambassador/Representative Agreement – Company: https://docpro.com/doc1198/brand-ambassador-agreement-company
Frequently Asked Questions (FAQ) on Brand Ambassador Contract
1. What are the responsibilities of a brand ambassador?
This depends on the details of the brand ambassador agreement. Generally, this includes complying with the duties specified in the agreement, adhering to a certain voice or tone whilst representing the brand and ensuring a consistent brand image. Part of their responsibility also includes doing the training provided by the company, John Allen Waldrop from the Law Dept notes.
2. Should there be any standard rules around what they will post on social media?
Yes – as we touched on previously, there should be standard rules in place so that the ambassador can comply with the brand's vision in carrying out their duties.
An example of a 'do' in the context of a social media post is for the brand ambassador to clearly disclose that they are an ambassador working for the brand at the beginning of every post. This will usually have to be done in a way that is easy to understand - such as '#ad' or '#sponsored'.
An example of a 'don't' might be for the ambassador to avoid anything that is not truthful, or misleading. This is important and ought to be emphasised as brands are not only responsible for their own representations, but those made by the ambassador on their behalf - according to Betina A.S. Baumgarten, a Fashion Law Attorney.

It is crucial that the brand ambassador has a clear understanding of the dos and don'ts. This may in some cases require providing training on those rules[2].
3. Can a company engaging the brand ambassador use the ambassador's name and images in its own marketing and promotional materials?
Generally, a company will negotiate in their agreement the right to use the ambassador's name and images in its own marketing. How long the company may do so depends on what has been agreed – sometimes companies reserve all intellectual property for the foreseeable future (even when the contract has been terminated), while other times, the ambassador may limit how long it can be used.
4. Do brand ambassadors need a contract?
A brand ambassador contract sets expectations, defines responsibility offers protection, ensures transparency, and most importantly is legally binding.
5. How to end a brand ambassador contract?
You need to refer to the wordings of the 'Termination clause' of your brand ambassador contract. Generally, a written notice of 30 days in advance is required to terminate for any reason whatsoever. Such a clause in a contract is referred as 'Termination Without Cause' and is drafted as below:
"Either Party may terminate this Agreement without cause upon thirty (30) days' written notice to the other Party."
[1] Betina A.S. Baumgarten, Fashion Law Attorney and Fashion Policy Consultant at Best Foot Forward Consulting
[2]John Allen Waldrop, a partner at Waldrop And Colvin PLLC.
[2]John Allen Waldrop, a partner at Waldrop And Colvin PLLC.
Disclaimer: Please note that this is a general summary of the position under common law and does not constitute legal advice. As the laws of each jurisdiction may be different, you may wish to consult your lawyer.