A nanny may spend the most time with your children during their integral years.
Learn more about what a nanny contract is, and how you can use one to guarantee the best for your children.
Who is a nanny and how can you find one?
Nannies act as caregivers for children. Although they are employed, they often become an invaluable part of a family's household. They are often responsible for all duties associated with taking care of children, providing entertainment, and even assisting with a child's education. A nanny usually provides full-time childcare within a family's home and may even develop close relationships with the children and families they work for.
Nannies are different from other types of caregivers, such as babysitters. Nannies usually provide long-term caregiving services, take care of a family's housework responsibilities, like preparing meals and running errands, and may be more involved with the children's lives. On the other hand, babysitters are typically hired short-term to care for children for short periods of time.
Nannies may provide live-in services and reside at the family's home during a stipulated period. There are also live-out nannies, who usually work for just one family, but may also work part-time and be employed by two or more families. Live-out nannies are usually paid an hourly wage and may have their travel expenses reimbursed.
Depending on factors such as parenting methods, personal preferences and budget, parents may attempt to find a nanny through a nanny agency by submitting a job description. After posting the job description, parents should carefully review applicants, interview candidates and conduct thorough background checks, taking care to consider a candidate's resume and references. Parents may choose to conduct a trial period before committing to a long-term candidate, for parents to observe a nanny's interactions with the children, to make sure the nanny is a right fit for the family.
Once a family has an ideal nanny in mind, it is imperative to create a work agreement. This agreement is also called a nanny contract or a nanny employment agreement. Read on to understand what this is, and why it is crucial to have one.
What is a nanny contract and when do you need one?
A nanny contract is a written agreement entered into between the family, who will become the employer, and the nanny. It is usually entered into before the nanny starts their time with the family and after the family has discussed their expectations and terms with the nanny.
A nanny contract will contain details of the agreement between the family and the nanny. This includes the aforementioned expectations, rate of pay, work hours and job scope. Both parties may agree on any additional details and outline them in the nanny contract, such as reimbursement and vacation policies.
Why should you have a nanny contract?
Nicole Israel O'Reilly, an attorney at The Law Office of Nicole Israel, PLLC, explains that ultimately, it is about business - the employer is providing the nanny with compensation for their service. This transaction requires a contract such that any future disputes or misunderstandings are avoided.
Having a nanny contract in writing provides more legal certainty than a verbal agreement entered between a family and a nanny. Listing out all terms in writing prevents misunderstandings, confusion, and grief since both parties will be on the same page. Especially when it comes to matters regarding children and their wellbeing, parents would undoubtedly wish to detail all their expectations in writing, to ensure that their children grow up in a safe and enjoyable environment.
Read below to find out how to draft a nanny contract to set the foundations for a good working relationship.
How to draft a nanny contract?
To easily create a nanny contract that will hold all parties accountable for what was agreed on, to keep everything organised and to prevent conflict, refer to DocPro's templates for nanny contracts.
The personal information of all parties involved is usually first outlined in the nanny contract. The full name of the employer and the nanny will be provided, as well as the full names and dates of birth of the children who will be taken care of.
While parties are free to alter the terms in the nanny contract to fit the specific needs of the children, budgets or parenting style, a nanny contract often contains the following essential items.
1. Work description
The work description in a nanny contract will stipulate the child-caring duties and obligations of the nanny. This should be done in detail, and usually includes common responsibilities such as feeding the children, taking them to and from school and assisting with homework assignments, as well as errands that should be done around the house, such as housekeeping and caring for any pets. Crucially, a nanny contract will stipulate that a nanny will abide by any reasonable house rules established by the employer.
This section is important since it provides a clear basis as to the scope of the nanny's duties and workload, as well as the employer's expectations of them, ensuring there is no misunderstanding.
2. Date of commencement
The nanny contract should state when the nanny will commence work with the family. This is when the nanny starts to take care of the children and start their duties with the family.
The parties may provide a fixed term for the nanny, such as a duration of one month or one year, or may agree that the contract will continue until it is terminated by either party.
3. Work schedule
The nanny's work schedule with the family should be agreed upon in advance by both parties. This includes the number of hours the nanny is expected to work per week or per day, and a general benchmark of the number of hours that the nanny is expected to work per week.
In this section, the time allocated for the nanny's break or meals may also be agreed upon and outlined. Any overtime policies can also be detailed here, whereby the nanny may be duly compensated for any extra hours they work beyond their working hours and the process of providing advance notice to the nanny of the overtime request.
This section is important not only in ensuring that the nanny is allocating sufficient time taking care of the children, but also in allowing the parents to be clear on the nanny's work hours so they may schedule their personal arrangements accordingly and make sure their children are accounted for.
4. Compensation
A nanny's salary should be included in the nanny contract. Often, the nanny will be paid monthly, with their salary calculated from an hourly rate. Importantly, the contract should detail the payment method.
Including this section ensures that the nanny receives due compensation for their work done and eliminates any potential misunderstandings when it comes to remuneration, building a strong working relationship between the family and the nanny.
5. Leave entitlements
Under the employment laws of different jurisdictions, employees are entitled to paid statutory holidays. This may be outlined in the nanny contract.
In addition, nannies spend almost their entire day caring for children and will inevitably require time off. This section may stipulate the holidays that the nanny is entitled to, and any paid time off that the nanny may take, including the policy for providing advance notice before taking the paid time off.
Detailing the holidays and time off that the nanny is entitled to ensures that they can take medical leave, vacations and attend to personal matters. This provides sufficient rest for the nanny and provides assurances to the family that the children will be well cared for.
6. Other benefits
Some nannies may have to travel substantial distances before reaching the family's home. In such circumstances, employers may offer a transportation allowance to cover travelling expenses or a vehicle allowance whereby the nanny is provided with a vehicle during their time with the family.
In addition, any out-of-pocket expenses that the nanny may spend when performing job responsibilities, such as spending on medical supplies for the children, may be reimbursed by the employer. This should also be stipulated in this section. The nanny's meals may also be provided by the employers or reimbursed.
Some employers may choose to provide a nanny with a mobile phone for communicating with the employer, which may be outlined in this section, as well as the policies associated with mobile phone usage. Additional benefits such as health insurance may be provided for the nanny, which may be more common for long-term nannies.
Providing these additional benefits to nannies will give them an incentive to build a more amicable working relationship with the employer.
7. Any additional obligations
Depending on the employer's parenting style or personal preferences, they may require the nanny to comply with additional obligations.
For instance, they may expressly prohibit the nanny from providing any medication to the children without the employer's permission, having guests at the employer's home without prior consent, or sharing any information about the employer and the children on social media.
Stipulating these additional obligations and having them be expressly agreed upon by both the employer and the nanny prevents any misunderstandings and clearly sets out the employer's expectations for the nanny.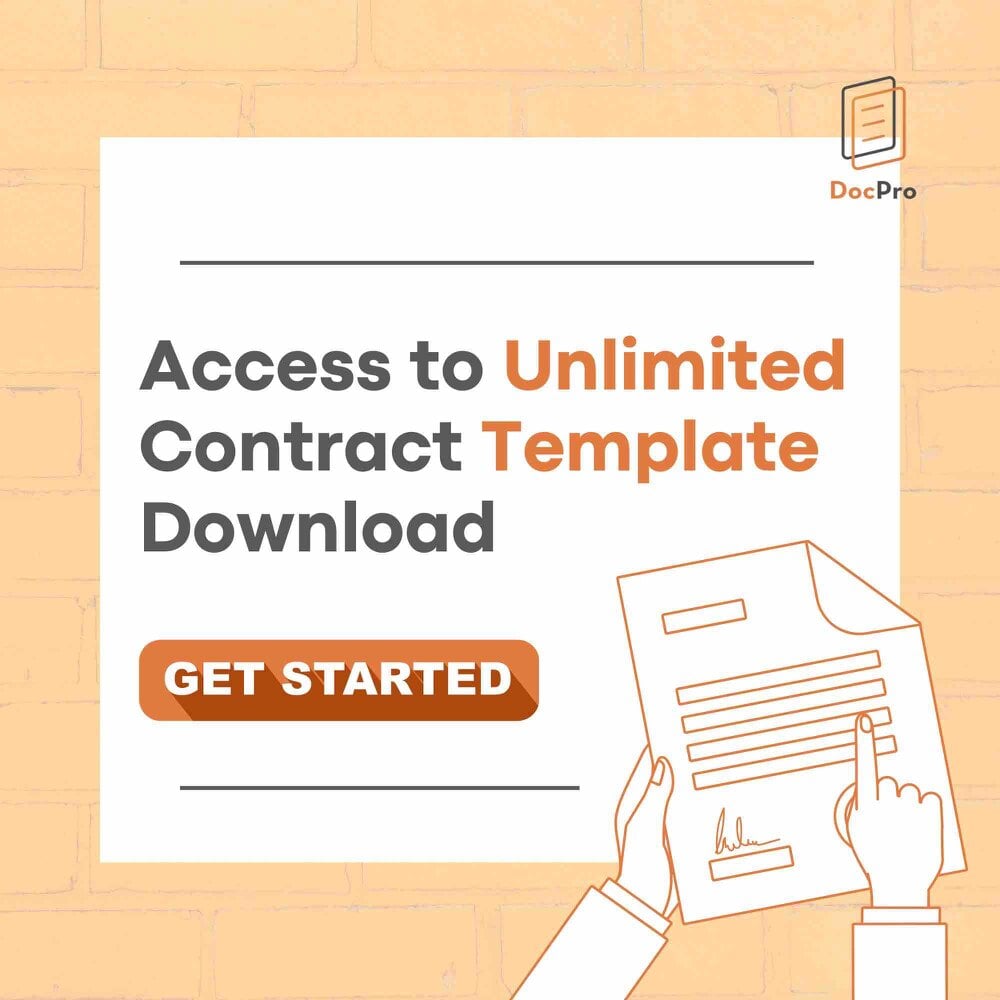 8. Term and termination
While a good working relationship between the nanny and employer (and with the employer's family and children) is ideal, there may be some unforeseen circumstances that warrant the termination of the nanny contract.
This section provides that either the employer or the nanny may terminate the nanny contract at any time. It also provides the period of advance notice of termination that both parties should serve and may provide that the employer may terminate the contract for reasons such as the nanny's job incompetence, failure to comply with the employer's instructions or breach of confidentiality.
It is beneficial to be very specific here. If possible, try to plan ahead for the possibility of particular scenarios, for example, specific grounds for dismissal like theft, substance abuse, or showing up late continuously, as Attorney Nicole Israel explains.
9. Disputes
The nanny contract should outline the methods of resolving disputes between the employer and the nanny. For instance, both parties can agree to settle disputes with mediation procedures.
This is essential because while many families build strong bonds with their nannies, there are unfortunately some cases where disputes arise. Outlining a dispute resolution process can protect all parties involved.
Frequently Asked Questions (FAQ)
1. Why should you have a nanny contract?
David Rowland, the Head of Digital Marketing at www.ecoonline.com has emphasised that when hiring a new Nanny, expectations and conditions must be made as explicit as possible[1]. The best way to do this is to put all this information into a contract.
Having a nanny contract, rather than merely relying on verbal agreement between a family and a nanny provides a greater sense of legal certainty. It also increases the chances that both parties are on the same page regarding the nanny's employment.
From an employer's perspective, a contract is crucial in helping to set out the exact work to be done by your nanny, as well as their wages, compensation, duties[2], etc. It will also help protect your interests in the event of a dispute.
2. Why should you include a Termination clause in a Nanny Contract?
A termination clause must be included as it helps make clear what events warrant termination or dismissal of the Nanny. As an employer, you can specify which circumstances you think should lead to termination.
Through a termination clause, you will also be able to clarify how terminations will be handled[3]. For example, you can distinguish the different procedures in place for resignation versus that immediate firing or termination.
3. Do Nannies have a legal minimum annual leave entitlement?
This depends on where you are located, or if you are based in the United States, which state you are in. Danny Jiminian, an attorney at Jiminian Law PLLC explains that in New York, for example, employers are obliged to provide 3 paid days off after 1 year of employment with the same employer.
[1] David Rowland, Head of Digital Marketing at https://www.ecoonline.com/
[2] Danny Jiminian, Esq, attorney at Jiminian Law PLLC
[3] Nicole Israel, attorney at Nicole Israel PLLC
Please note that this is a general summary of the position under common law and does not constitute legal advice. As the laws of each jurisdiction may be different, you may wish to consult your lawyer.